The millions of tons of plastic being dumped into the oceans globally have negatively impacted the ecosystem. The exponential increase in plastic usage is a matter of concern for all of us as it has become a constant element in our lives, it's everywhere.
Enviro joined hands with Greenpeace India to celebrate 'Plastic Free July' at Vatika Properties. The initiative was aimed at raising awareness about the harmful effects of plastic usage and encouraging employees to adopt eco-friendly alternatives. The focus was also on educating employees about the importance of waste segregation and providing them with clear guidelines on recycling practices.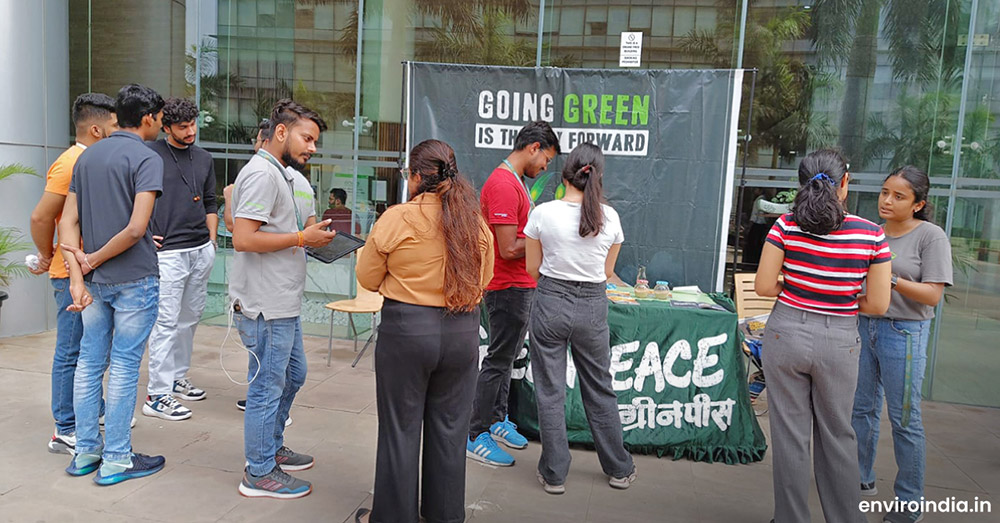 The celebrations kicked off with an extensive program held at different Vatika Properties. Employees from different organizations showed keen interest and actively participated in the sessions which underscored the importance of reducing plastic usage. These sessions were designed to equip the participants with clear guidelines on what materials can be recycled and how they can effectively contribute to reducing the plastic flow into the system. These seminars were led by several industry experts from Greenpeace India and Enviro, who shared their knowledge and expertise on sustainable practices. Employees gained valuable insights into the detrimental effects of plastic on the environment and were introduced to practical alternatives that could be easily incorporated into their daily routines.
The collaboration between Enviro and Greenpeace India has been highly impactful, reinforcing our commitment to sustainability. The informative sessions sought to motivate employees to alter their habits of plastic usage over time and contribute to a greener future by increasing awareness and supporting sustainable practices.
Our habits and lifestyles must be altered if we want to reduce the use of plastic. We collectively must take the initiative to eliminate plastic from our planet. It can be done by making crucial changes in our lifestyles. In a significant move towards sustainability, Enviro in collaboration with Greenpeace India educated the employees to adopt the following sustainable measures at the workplace:
1. Replace single-use plastic such as water bottles, coffee cups, spoons or forks with reusable alternatives made of glass or steel. Don't put empty packets inside empty bottles as this renders them non-recyclable.
2. Avoid disposable items/cutlery.
3. Put plastic waste in a separate dustbin so it can be recycled.
4. Use pens with refillable ink cartridges instead of single-used pens.
The time has come for us to go beyond the realm of plastic and build a more sustainable and environment-friendly future for everyone. It's not about creating a zero-plastic world as that is somewhat impossible for a country but together, we can transcend the limitations of plastic and forge a path toward a sustainable future.
We were generously covered by our media partners –APN News, Business News This Week, Biz News Desk and Content Media Solution who further spread the word.