Busy schedules, long working hours and unhealthy lifestyle are affecting physical, mental and spiritual well-being. It is an indication that we need to practice something that revitalizes our lives. One such holistic activity is yoga. Recognizing the numerous benefits of yoga, Enviro organized various yoga events at its residential properties to emphasize the transformative power of yoga and encourage a culture of well-being. We strongly believe that providing residents with the opportunities to engage in wellness activities not only enhances their quality of life but also strengthens their sense of community, promoting a harmonious living environment.
We arranged specific yoga sessions for residents as a part of our commitment to fostering a holistic living environment in the societies. Residents, including both children and senior citizens actively participated in the sessions. Certified yoga instructors guided the participants through a series of asanas and pranayama. These events took place in serene and spacious areas within the society premises, creating a perfect ambiance for relaxation. The day was marked by a group meditation session, where residents came together to cultivate a sense of calmness and inner peace.
By hosting a series of events on International Yoga Day, we emphasized the significance of incorporating yoga as a part of our daily routine as we understand that practicing yoga regularly can help manage stress, improve strength and promote mental health. It also offers chances for personal growth by realizing the inner self and rejuvenates the mind and body.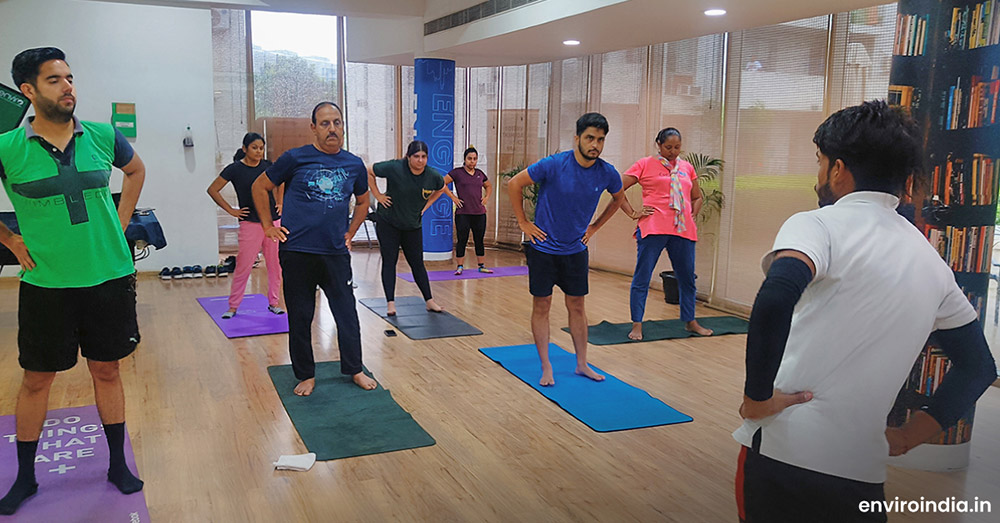 Residents were pleased with Enviro's efforts in organizing these yoga sessions and participated with great enthusiasm. Many of them shared how practicing yoga has positively impacted their lives, helping them manage stress and improve their physical and mental health. These events also provided an opportunity for residents to learn about the rich traditions and philosophies associated with yoga, deepening their understanding of this ancient practice. They also served as a reminder that health and wellness are not just individual pursuits but are also influenced by the environment in which we live.
At Enviro, we always try to go beyond the traditional concept of facility management as we firmly believe that providing residents with opportunities for self-care and well-being contributes to their overall satisfaction and happiness and this proactive approach sets us apart as a facility management company that prioritizes the holistic needs of its residents.
Conclusion: – As we navigate the challenges of modern life, it is essential to prioritize our physical and mental well-being. Our initiative to promote health and wellness on International Yoga Day aligns with our core values and exemplifies our commitment to creating a healthy and harmonious environment as a Facility Management Company. The event's success can be marked by the enthusiastic participation of residents as they took some time from their hectic schedules and came forward to indulge in yoga sessions. Ultimately, by fostering a culture of well-being, facility management companies can contribute to the overall happiness and satisfaction of their residents. As it is rightly said, "A healthy community leads to a happy community."