When it comes to buildings whether residential or workplaces, many companies are now demanding for optimization of space, and energy to realize cost-efficiencies and effective facilities' management. In these times of the COVID-19 pandemic, integrated facility management services are a solution that is much more appreciated. As commercial buildings gradually move towards reopening with a better understanding of the contagion and what it will take to fully adhere to the government's safety and hygiene regulations, integrated facility management services come in to offer a holistic solution while keeping costs in check. It is important for organizations to make employees feel protected and safe to return to work and hence, commercial buildings need to realize that to do so, integrated facility management offers some of the very best solutions. Here they are.
⦁ Make Touch points contactless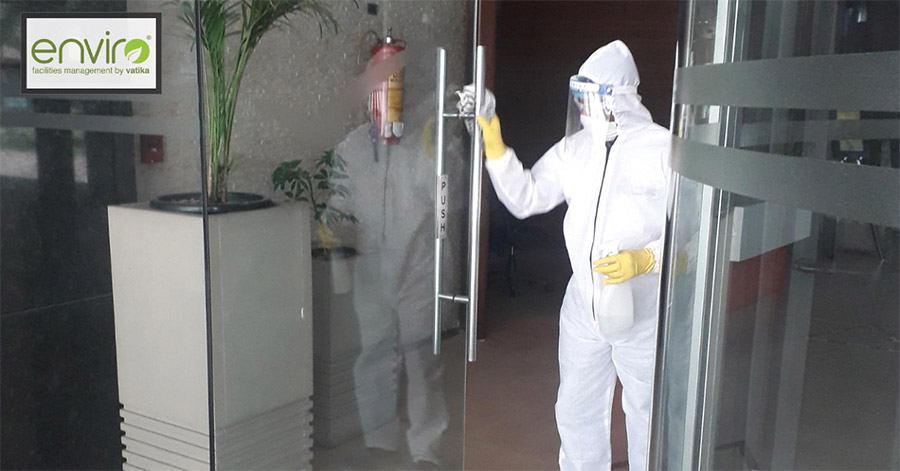 Touch is a major factor in the spread of the corona virus and hence the entry areas of the commercial buildings require quite some attention. Digital entry facilitates this. In washrooms, sensor-based hand wash dispensers and taps as well as thermal drying and napkin dispensers will help minimize human contact.
⦁ Building Maintenance Activities
More than ever, maintenance services such as cleaning, sanitization etc. should be well-run and hence, integrated facility management is the best way to ensure that these activities are adhered to. Commercial Buildings will need more intense housekeeping measures including multiple rounds of cleaning on a daily basis including heavy-contact surfaces such as elevator buttons, handrails, door handles etc. which should be disinfected often everyday. Ensuring that there are sanitizers and signs reminding occupants to sanitize and educating them on the best ways to prevent against getting the virus throughout the facilities. Maintenance of HVAC units and air intake filters or changing to newer more efficient units is important to ensure healthy air circulation. Engaging an integrated facility management company will help ensure that measures against COVID-19 are adhered to in the most efficient way possible.
⦁ Coordinating Inventory Audits
The virus has no doubt affected supply chain distributions hence, necessitating the need for intelligent management of inventory. Intelligent management solutions track and audit inventory to come up with the threshold numbers for each item for automatic replenishment orders. These solutions also enable simple asset location tracking for maintenance as well as restocking of cleaning materials.
⦁ Health and Wellness Infrastructural Measures
Intelligent integrated facility management services will also use infrastructural overhauling to promote health and wellness. Things such as ensuring work areas, washrooms, kitchen and cafeteria supports social distancing are imperative. Fixtures such as sneeze guards between desks to protect occupants are also paramount for protection of occupants
Engaging integrated facility management services will help commercial buildings embrace measures for seamless transition in this COVID-19 era. Design-driven, technological as well as behavioral best practices will need to be enforced for the wellbeing of all occupants and employees.