We at Enviro India – integrated facility management services truly believe in the conservation and sustainability of mother Earth. In our continual effort to make our residences and spaces as environmentally friendly and efficient as possible we joined in to celebrate World Conservation Day on 28th July. The initiative was made to recognize the vital role that nature plays in sustaining a stable, productive human society. The pandemic has reiterated in no subtle ways that for one to live a healthy life, nature has to be nurtured, just the way it nurtures us. To give back to nature is to ensure that the future is safe and abundant, for us as well as the generations to come.
Most of us were indeed awestruck to see nature recuperate while we all stayed safe at home. One could once again marvel at the gorgeous clean blue skies and the healthy greens all around were quite enlivening to the spirit. Each one has to take it upon ourselves to make sure that we maintain this beauty and enchanting foliage of nature. Notwithstanding that we still continue to pollute the environment, but we can always counter the affect by planting trees that would purify the air all around. Greenery is the healthiest lifestyle one can be endowed with and we must make every effort towards its sustainability and longevity.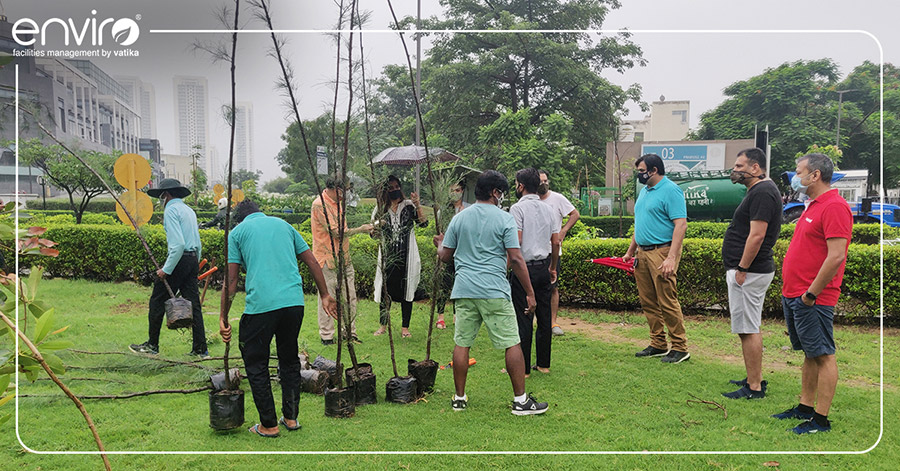 With this in mind, Team Enviro came together as one for a Plantation Drive organized at Vatika INXT at Gurugram where we planted 50 saplings of the fruit bearing Jamun tree and the hardy and deep-rooted Casuarina tree. The residents also actively participated in the tree plantation drive, it was indeed heartening to see people from all age groups take time out of their daily hum drum and grace the event with their presence and open-heartedly be part of it. It also states that one is aware and keen to make a difference for the sustainability of nature.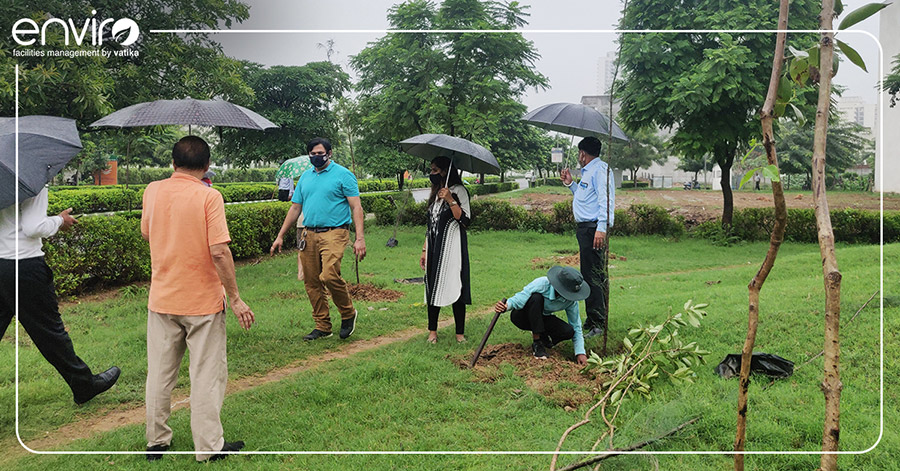 We chose to plant Jamun tree saplings for the evergreen nature of the tree and also its affinity with people all over India. Not only do we envision, how green and tall the tree will grow to be, but also little children climbing them and enjoying the delicious fruits. Our idea is for them to understand the importance of Mother Nature and build a relationship with it. The future depends on them and to ensure that they are aware and sensitive to Mother Nature- the essence of life, is almost like an investment.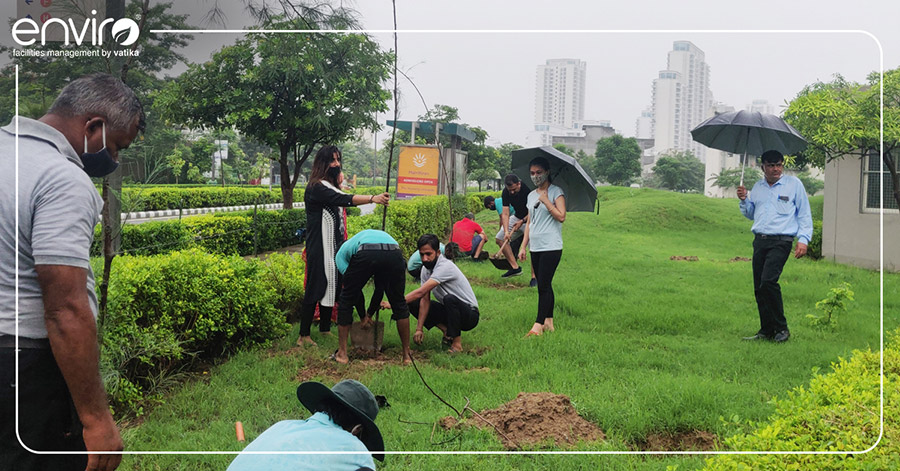 The Casuarina saplings were planted keeping in mind the tenacious nature of the tree, also known as She-Oak. The tree also grows very deep roots, therefore offering it a quality to stand the test of weather and time. It also has very beautiful needle-like leaves, resembling those of pine trees. Who wouldn't want to enjoy the visual treat these trees have to offer. Especially, in the North since we love our hill stations these trees would offer a gorgeous green cover and look pleasant to the eyes.
We also pledged to promote green initiatives in our day-to-day lives for a pollution-free and sustainable environment. Our effort as an integrated facility management company was also to lead by example and leave a lasting impact on the residents and encourage them to make little efforts in their own way towards a sustainable and healthy environment. As a part of facility management, by planting new trees and increasing the green cover we also aim to reduce the pollution levels and purify it into clean air.
We strive to organize and be a part of many such efforts towards world conservation and trees plantation in the future as our contribution towards a green initiative in India.
We were generously covered by our media partners such as Business News This Week, Media Bulletins, Digital Media 9, India CSR, The Live India, Daily Hunt who further spread the word.