SUMMARY
Since its very inception, Enviro (facilities management by Vatika) has immaculately been looking after the health, safety and functional standards within organizations and residential proximities, counting up to 70 mlln. sq. ft. of land in today's date. However, to safeguard this provide, a close watch over these amenities has been unsparingly necessary. This demanded for a strongly devised surveillance mechanism that not only rendered support services on medical exigencies but also looked after the general living demands of the occupants.
In the light of the above revelation, this study revolves around Enviro's service execution across all its premises, making sure the environmental factors move hand in hand with a sustainable approach.
THE MATERIALIZATION
To effectively enforce the amalgamation of manual and human supervision, the Vatika premises are loaded with high quality CCTV cameras contributing to an effective visitor management system. The motive is to provide sound occupancies and working spaces that are free of any undetected threats to the living environment.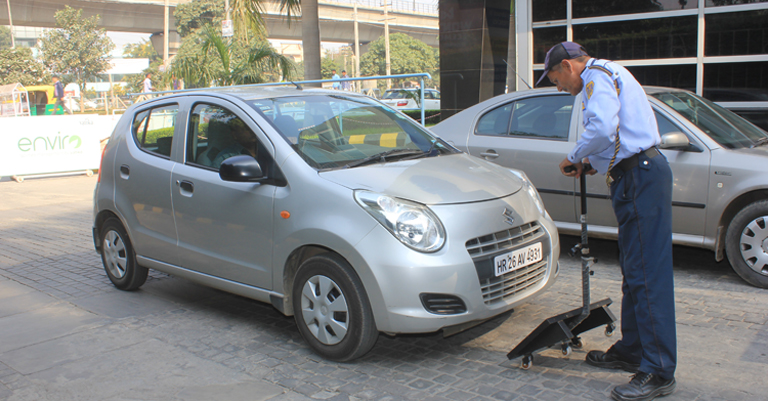 At Vatika India Next, the active security guards cover round the clock security across the entire proximity. The area is fragmented into 5 zones with 2 security guards deployed at each zone, further governed by the head security guard who supervises the overall operations from inside the control room. The security force's hawk eye vision, under the Residential operations' head Col. Mehta, drives a safe environment that ensures a notion of sanity with all its services.
Similarly at Vatika City Point, Enviro's vehicle based – Quick reaction team (that is active 24/7 with a well trained firefighting staff) handles the fire-related incidents in a professionally trained manner, with the use of modern equipments.
Enviro's self deployed Fire Fighting Vehicle is also available 24/7, whose staff periodically undergoes advanced fire and security trainings to maximize the readiness to control any mishaps. The chief security officer Col. Kumar Vikram holds an eagle eye vision over the running operations while keeping the environment under adequate control.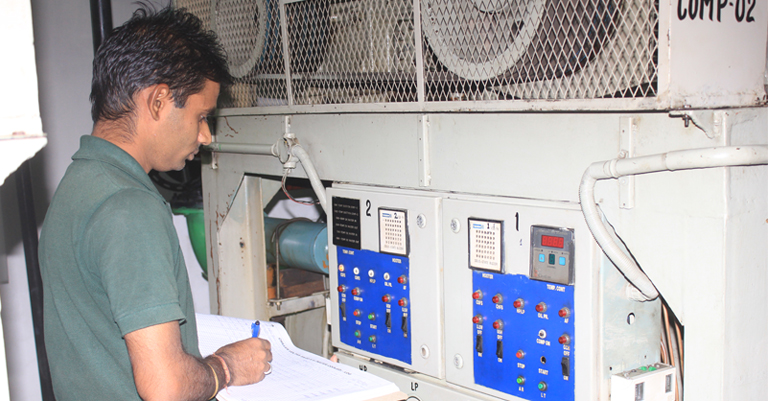 Serving a niche of more than 77 clients from a variety of industries with over 3000 employees delivering pristine facilities management serives, Enviro believes in regular collection of feedbacks from its valuable clients, while there's always room for further improvisation. Its distinguished clients like Bharat petroleum, L &T, Okaya, Iris Tech Park, Tata Consultancy Limited, JP Hospitals and Westin Hotels and more avail the best of its facilities management services, with a dedicated customer service cell, that offers adequate support for 24 hrs, in 7 days a week.
Moving a step further, the introduction to Mobicy – a disruptive bicycle sharing technology platform to solve the last mile problem, proved to be a boon in the bigger schemata of things. The Mobycy app assisted thousands of users to find their ride and drive home safely while also saving a big chunk of their precious time. Be it the midst of the night, or an early morning adventure, as many as 8000 users across all Vatika premises trust mobycy for an environment friendly drive.
Besides the integrated facilities management services that Enviro stands for, it has recently introduced EHS – Enviro home services that looks after the maintenance needs at the residential proximities. From a range of carpentry, plumbing and electrical services, EHS ensures quality services to its clients with a high gratification rank.

CONCLUSION
The rising demands at any workplace or residential proximity is the core to a facilities management business. With that said, Enviro constantly strives to up its game by bettering its processes and enriching its services.
With the introduction of new equipments and advanced technologies, it looks up at scaling heights with a well trained staff that not only serves to the best of its resources, but also serves to the best in the industry.